Three Important Reasons You Should Speak with a Car Accident Attorney
Aug. 24, 2023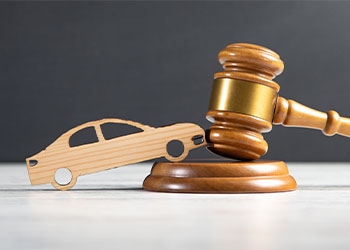 Accidents happen. By definition, an "accident" is unintentional, but do not equate a lack of intent with fault. If an accident occurs because the driver of a motor vehicle was negligent, there is someone to blame and therefore someone to be held responsible for the injuries and damages they cause.
Last year, Georgia ranked 5th in the country for the percentage of drivers who have at least one at-fault auto accident on their record. In fact, the state's 10.6% share is 20% higher than the national average.
What does this mean for you? It means a significant number of drivers on Georgia roadways have a history of negligence. It means that if one of them injures you, you need to fight back and hold them accountable.
At The Law Offices of Peter Meyer, P.C., we help clients and their families hold negligent drivers accountable in Macon, Savannah, Bleckley, Bibb, Candler, Houston, Bulloch, Laurens, Wheeler, Chatham, Telfair, Peach, Dodge, Jones, and Twigs, Georgia. We don't accept the premise that no one is at fault for a car accident, and neither should you.
If you're asking yourself, "Do I need to consult an attorney after a car accident?", stick around. There are many reasons to speak with an attorney if you have been injured in a Georgia crash. The following covers three of the most important ones.
1. The Burden of Proving Negligence
No insurance company is going to hand you a settlement merely because you say its insured caused the crash that injured you. Every insurance company will demand proof, and that burden is on you.
Proving fault is not always easy. In fact, what does and does not appear in a law enforcement officer's crash report may not only not help you but may actually hurt your claim. You must prove the other driver owed you a duty of care, that the driver breached that duty, that the breach caused an accident, and that you suffered injuries and damages as a result.
A skilled car accident attorney will know how to conduct a thorough accident investigation, and how to gather evidence and documentation that proves negligence.
2. The More Serious Your Injuries, the Tougher the Fight for Compensation
Serious and complex injuries need time to heal. Until you recover to the extent you can, you really do not know the true value of your claim. Once the negligent driver's insurance company accepts fault, it is all about the numbers.
The insurance company will try to get you to settle your claim long before you reach maximum medical improvement. The insurer is hoping you will be desperate enough to cash out early. If you do, you risk getting far less compensation than your injuries are going to cost you.
Your personal injury attorney will also be able to quantify the damages you don't get a bill or receipt for, such as compensation for the pain and suffering you have endured due to the crash, or your spouse's loss of consortium due to your injuries.
3. The Need for Negotiation Skills and Experience
Negotiating settlements is a daily job for insurance adjusters and as such, they get quite good at it. Plus, they use many tried-and-true tricks to get you to settle too soon, accept a share of fault for the accident, to undervalue your injuries, and to contradict your version of events.
As an experienced personal injury attorney, Peter Meyer has seen every trick used, over and over again. We use that knowledge to negotiate a settlement from a position of strength. We also use it to guide and protect you throughout the claims process.
Adjusters may be seasoned negotiators, but so are we. They are trying to preserve the company's profit margins. We think we are fighting the far better fight – garnering a settlement that fully compensates you for your losses.
What Questions Should I Ask Before Hiring a Personal Injury Attorney?
The relationship between you and your personal injury attorney must be rooted in trust. Therefore, you should spend the time necessary to visit with an attorney to gauge how much you trust them.
Ask questions about the attorney's experience in representing clients involved in similar accidents with similar injuries. Ask the attorney if they are prepared to take your case to trial if you cannot reach a settlement with the insurer. Ask them if they handle personal injury cases on a contingency basis, meaning the attorney does not collect a fee unless you receive a settlement.
You should also ask the attorney how accessible they will be to you throughout the process, and who in the office will be working on your case. An attorney dedicated to providing personal attention to every client is the one you want to represent you.
Take Your Future Into Your Own Hands
You got into your car one day and ended up injured because someone else did or did not do what they are obliged to do. Your life has been upended and your future may seem a little less sure. With our experience and expertise, we can help you take your future back. It is what we do, day in and day out, for each person we work for.
If you have been injured in a car accident in Macon or Savannah, Georgia, or in any of the surrounding areas, talk to The Law Offices of Peter Meyer. Our consultations are free, so there is no reason to delay.
Contact our office now.