Understanding Bad Faith Insurance Tactics
July 27, 2022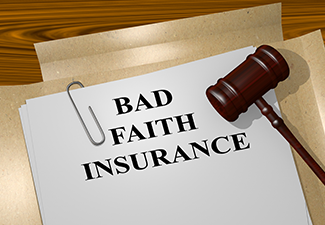 According to the Georgia Department of Public Health (GDPH), motor vehicle crashes are the leading cause of deaths from injuries in the state and the second leading cause of hospitalizations and ER visits. The Georgia Department of Transportation (GDOT) further reports that in 2020 vehicle operators drove 316,850,000 miles within the state.
In other words, if you venture out to go shopping on a weekend or even to work on a weekday, depending on the route you're taking, there can be crowded conditions, drivers speeding, or otherwise being distracted and not paying enough attention. Pretty soon, you could be involved in a crash, and you or your passengers might be injured.
After an accident caused by another driver, you contact your insurance company to handle the claim for you, or you file the claim directly with the other driver's insurance company, but you discover getting compensated isn't going to be as easy as you thought. The insurance company is using every delaying tactic and trick in the book to lowball or even deny your claim. What to do?
The best advice you can get is to enlist a personal injury/car accident attorney to handle negotiations with the insurance company. If you're in or around Macon or Savannah, Georgia, contact the team at The Law Offices of Peter Meyer, P.C.for aggressive, compassionate representation.
We have more than two decades' experience handling personal injury claims, negotiating with insurance companies, and overcoming their "bad faith" tactics. We also proudly serve clients in Bibb, Houston, Laurens, Chatham, Peach, Twiggs, Jones, Dodge, Telfair, Wheeler, Bulloch, Candler, and Bleckley counties, Georgia.
Insurance Law in Georgia
Georgia is an at-fault auto insurance state, which means the driver causing the accident and any resulting damage or injuries is responsible for compensating the other driver. This is done primarily through auto insurance, but Georgia's minimum requirements are fairly low, known as 25-50-25.
In other words, drivers must carry $25,000 in liability insurance for injuries they cause to another person, $50,000 in coverage for all persons injured by them, and $25,000 in coverage for property damage to others.
This basic liability coverage only pays for injuries and property damage the insured causes to others, not to themselves or their passengers. For that, they will have to purchase additional coverage. Nonetheless, if the other driver is at fault, that person's insurance should pay up.
What Are Bad Faith Tactics?
Every insurance company relies on professionals known as claims adjusters to deal with claims filed. These employees are trained to question everything and try to get you to say something that can be turned against you. The goal is to lowball or deny your claim to protect the parent company's bottom line. This is just part of what to expect when you file a claim, and the next phone call you get is from a claims adjuster.
If you're filing a claim for an injury, the adjuster may call and begin by asking how you're doing. If you respond "good" or "fine," they can use that to assert you're not as injured as you claim. They will also try to get you to admit some kind of fault in the accident. Using Georgia's standard of modified comparative fault, if they can get you to admit anything, they can reduce your compensation and even deny it if they can show you were more than 50 percent at fault.
This is why it's not a good idea to deal with a claims adjuster on your own. Let an experienced, "battle-hardened" attorney deal with the adjusters.
The above tactics don't necessarily rise to the level of bad faith unless the adjuster keeps postponing a decision, throwing up ever-more-difficult hoops for you to jump through, or ultimately denying you the compensation you deserve.
Delays are designed to get you to give up, but Georgia, like most states, has laws and regulations in place that require insurers to deal with your claim in a timely manner. Other types of bad faith tactics include failing to conduct a thorough investigation, not returning your phone calls or communications, and misrepresenting the terms of the policy.
Expect a Low-Ball Settlement Offer
Even if the actions of the claims adjuster don't necessarily rise to the level of bad faith, you can generally expect that the first offer they make to compensate you for your injuries, medical expenses, losses, and property damages is going to be low. Don't accept the first offer.
If you haven't yet contacted a car accident attorney, this is the time to do so. If you've been dealing with the adjuster on your own up to this point, they may already have coaxed you into saying or admitting something that can help them justify the lowball offer.
Again, the best advice is to rely on an attorney from the date of filing the claim. When the adjuster calls, refer them to your attorney.
Personal Injury Lawsuit
If the insurance company fails to live up to its obligation or continues to lowball you, you may need to file a personal injury lawsuit against the at-fault driver. Your attorney will be able to evaluate this for you and advise you if and when legal action might be necessary. A personal injury lawsuit opens up your compensation to cover non-economic losses, such as pain and suffering, as well as economic losses for medical expenses, missed work, and rehabilitation.
Personalized Attention and Detailed Advocacy
At The Law Offices of Peter Meyer, P.C., we are dedicated to providing personalized, attentive service. With our 20-plus years of experience, we know how to handle insurance adjusters and will fight for the just compensation you deserve. Don't try to go it alone; rely on our skilled team and our resources.
We proudly serve those injured in auto accidents in Macon and Savannah, as well as Bibb, Houston, Laurens, Chatham, Peach, Twiggs, Jones, Dodge, Telfair, Wheeler, Bulloch, Candler, and Bleckley counties, Georgia.