How Insurance Companies Evaluate the Value of a Claim
May 8, 2023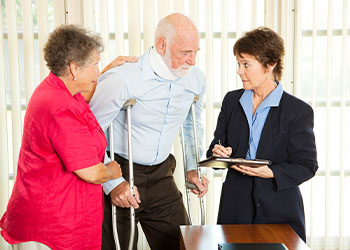 Many injured victims make the mistake of settling their personal injury claim too early and without understanding how much their claim is actually worth. In order to know what amount would fairly cover your current and long-term costs and losses, you need to understand how insurance companies evaluate the value of personal injury claims.
Understanding this will give you an upper hand when negotiating a settlement with the insurer. Seek the guidance of our personal injury attorney at The Law Offices of Peter Meyer, P.C. if you are considering settling your claim but are not sure what amount would be adequate and fair. With offices in Macon and Savannah, Georgia, we provide reliable and personalized legal services to injured victims in Twiggs, Bulloch, Bleckley, Houston, Bibb, Peach, Laurens, Jones, Telfair, Wheeler, Dodge, and Candler.
Every Personal Injury Claim Is Unique
One important fact to understand is that every personal injury claim is unique. The circumstances surrounding your claim will determine how it's evaluated by the insurance company. This is why you might want to hire an experienced attorney who can help you understand how much your claim is worth to ensure that you are getting the best settlement offer possible.
Factors That May Be Considered by the Insurance Company
Let's take a look at two of the most common methods insurance companies use when evaluating personal injury claims:
Your chances of winning at trial. When evaluating your claim, the insurance company will likely consider what your chances are of winning at trial. If they think you have a strong case, they may be more willing to settle for a higher amount instead of going to court. On the other hand, if they think your case is weak, they may be less likely to offer a fair settlement and may opt to go to trial.
How much a jury could potentially award you. Another key factor that insurance companies consider when evaluating the value of a claim is how much a jury could potentially award you in damages. This includes both economic and non-economic damages, such as medical bills, lost wages, pain and suffering, and emotional distress.
In addition to the above factors, there are several other factors that the insurance company may consider when evaluating your claim. Some of these include:
the severity of your injuries

the strength of your evidence

the credibility of your witnesses

your past medical history

the long-term impact your injuries may have on your life

comparative negligence (if you were partially at fault for the accident)

state laws that could impact the value of the claim

whether you are represented by a reputable and skilled attorney
It's important to note that these factors are not always cut and dry, and the value of your claim can vary greatly depending on many other factors.
Example: Let's imagine that you get injured in a truck accident. If the trucker, who caused the collision, works for a respectable and big-name trucking company, the insurance company may value the claim lower than if the trucker worked for a lower-end trucking company that is known for not properly conducting background checks when hiring.
Your Actions Factor In As Well
Another factor that can impact the amount of compensation you will get is your actions during and after the accident.
The state of Georgia follows a modified comparative negligence rule when it comes to determining compensation in personal injury cases. This rule means that if you were more than 50% responsible for the accident, you will not receive any compensation. If you were less than 50% responsible, you would receive compensation proportional to the other party's fault.
In personal injury cases, the victim has a legal obligation to take reasonable measures to avoid or minimize losses after an accident. Failure to mitigate damages means that you did not take the "reasonable efforts" that were expected of you to reduce the severity of your injuries or prevent further losses, according to the Legal Information Institute. If you fail to mitigate damages, the compensation you receive may be reduced.
Professional & Personal Legal Guidance
Filing a personal injury claim can feel like a daunting task, especially when you do not understand how much your claim is worth. Our attorney at The Law Offices of Peter Meyer, P.C. can help you better understand how insurers evaluate claims so that you can put yourself in the best possible position when negotiating a settlement or deciding to file a lawsuit. Reach out to our office today to schedule a free consultation.