Common Misconceptions About
Car Accident Claims in Georgia
April 29, 2022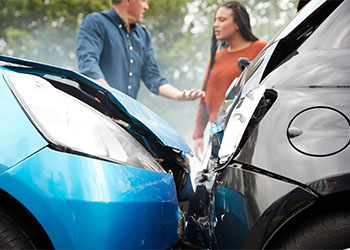 After you have been injured in a car accident in Georgia, you probably have received well-meaning pieces of advice from family, friends, co-workers, acquaintances, and even strangers. Some advice may be solicited and some completely unsolicited. Much of it will reflect some very common misconceptions.
You are not alone. Nearly 121,000 serious, minor, and suspected injuries resulted from Georgia car accidents in 2020. Individuals injured by a negligent driver in Macon, Savannah, or anywhere else in Georgia need the guidance of an experienced personal injury attorney to sort out fact from fiction.
At The Law Offices of Peter Meyer, P.C., we have been offering informed legal advice and counsel to personal injury clients in Macon and Savannah, Georgia, and in Bleckley, Bibb, Candler, Houston, Bulloch, Laurens, and the rest of the state. Here are some common misconceptions about car accident claims in Georgia and the truth about the process.
My own insurance will cover my medical expenses and the necessary repairs to my car.
Georgia is an at-fault state for auto accidents which means this statement is more inaccurate than accurate. If you can prove that another driver failed to adhere to the required duty of care while operating their vehicle, that their failure caused the crash, and that you were injured as a result, you can hold the negligent driver financially responsible for your medical expenses and other damages. You will be able to file a third-party claim against that driver's liability insurance coverage to recover your damages.
That said, if you have medical payment coverage on your own insurance plan, you can access that to help pay your medical bills before establishing fault. You can also have your own coverage pay for damages to your vehicle. If the other driver is assigned the majority of fault, your insurance company may move to recover what it paid, including your deductible.
Moreover, if the limits of the negligent driver's insurance policy are not sufficient to cover your damages, or if the driver was uninsured, you could file a claim against your own uninsured or underinsured motorist coverage if you have it.
I feel fine, so I don't need to see a doctor.
This misconception can cause tremendous problems for your personal health and for your personal injury claim down the road.
For the sake of your own health, seek immediate medical attention. Some injuries are not immediately apparent, often masked by adrenaline. Delaying diagnosis and treatment might prohibit your recovery. Furthermore, if you incur medical expenses for crash-related injuries days, weeks, or months later and want to file a claim for your own medical payment benefits or against the negligent driver's liability coverage, you will need medical documentation that distinctly relates your injuries to the collision. The negligent driver's insurance company may use a delay of medical treatment to allege that your injuries were either so minor they have little value, or that you somehow injured yourself later and your injuries are unrelated to the accident.
The accident was minor,
so I don't have to report it.
In Georgia, you are required to dial 911 if the accident results in any injury or death, if the damage to a vehicle exceeds $500, or if your insurance company mandates that you report any accident. As a rule, you should dial 911 so the proper authorities will be dispatched to the scene.
I might have had some fault for the accident, but it won't affect my claim against the other driver.
As long as the other driver was more at fault than you were, you can still file a claim against their liability coverage; however, any fault assigned to you will affect the amount of money you actually recover. As a modified comparative negligence state, Georgia injury settlements are reduced by your share of fault.
For example, if your damages are worth $50,000 and you are assigned 20% of fault, your settlement would be reduced by that 20%. You would receive $40,000 in the settlement.
I do not need a personal injury attorney to represent me. I can file a claim on my own.
This is, in fact, technically accurate. You can pursue a personal injury claim on your own. However, this is not wise. An experienced personal injury attorney knows how to investigate and substantiate your claim, value your damages fairly, negotiate with insurance companies and, if necessary, file a lawsuit and represent you at trial.
Insurance companies will take every possible opportunity to assign fault to you, lower the value of your damages, and entice you into settling for far less than what is fair. You need an attorney working for you who knows insurance company tactics and will use that knowledge to help you move forward.
How The Law Offices of
Peter Meyer, P.C. Can Help
At The Law Offices of Peter Meyer, P.C., we arm our clients with the facts about personal injury claims. We respect our clients and the decisions they make based on the accurate information we provide. Above all, we are dedicated to garnering fair compensation for you and your family. If you have been injured by a negligent driver in Macon, Savannah, or surrounding areas in Georgia, call us now to schedule a case consultation.